Boston premiere of Jeremy Jones' Deeper movie, and SASS Global Travel is giving away the movie tour's grand prize of an SGT ski or surf trip!  To get stoked on the year's biggest movie, check out this article on Jones that went out in ESPN the Magazine recently: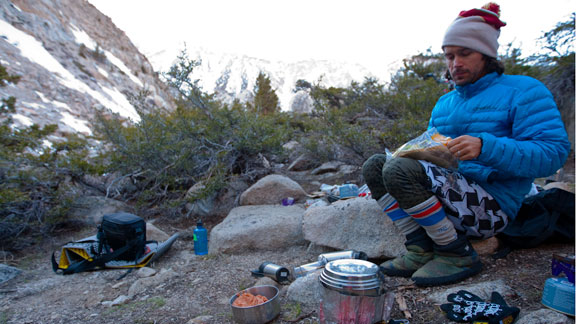 Greg Von Doersten for ESPN The Magazine A much-needed timeout: Jones may trek for nearly a full day to reach the top of his runs.
He has come here to complete his journey. It's taken almost two years to reach this place, hidden deep within the backcountry of California's Sierra Nevada mountain range, and even deeper within himself. But it's taken Jeremy Jones a lifetime — 35 years — to accumulate the knowledge, skill and desire to find it.
It's shortly before 5 a.m. on the Saturday of Memorial Day weekend, a day most people begin by incapacitating their alarm clocks. Jones, on the other hand, needs only anticipation to stir him from his sleeping bag. He dresses in the deep dark of the great outdoors: well-worn yellow snowboard pants, a sky-blue jacket and a white beanie he pulls tightly over unruly auburn waves. He laces into his snowboard boots and calls out to his crew — a photographer, a videographer and up-and-coming big-mountain snowboarder Ralph Backstrom — to make sure each is awake and vertical. Once they are, the men gather around the camp's makeshift kitchen and fill their bellies with warm coffee and oatmeal.
As Jones lays out the day's objective, his voice — which is deep, paced by long, thoughtful "um"s and almost indistinguishable from movie star Christian Slater's — is the only sound echoing through the canyon. But as the time comes for the crew to depart base camp, even that sound disappears. Later, at dinner, Jones will be animated and chatty, as he toggles between conversations about the lack of role models in pro sports and the vacation he's taking to Disneyland on Monday with his wife, Tiffany, and their two kids, Mia, 5, and Cass, 2. But this morning, as he fills his daypack with food and water, he becomes intensely and inwardly focused.
A few moments later, Jones sets out on the day's hike, urging Backstrom and the crew to stick close behind. Then he offers an observation: "I woke up last night thinking the snow might be soft in areas because it warmed up during the day and got cold last night." The 27-year-old Backstrom nods, but doesn't appear to grasp the seriousness of his mentor's message. "I know the avalanche danger is low, but we need to be careful up there," Jones says. "I know I'm obsessing, but I can't shut off my mind on days like these."
You need to spend only a short time around Jones, the most accomplished big-mountain snowboarder in the world, to understand that his mind never shuts off. In the weeks leading up to a trip, he spends hours each day worrying over every imaginable detail. He watches the weather and monitors snowfall using apps on his iPhone. He consults avalanche websites and checks in repeatedly with local guides. He analyzes maps of the mountains to select the safest area to set up camp. He also spends weeks each year tuning up his avalanche and first-aid training. In the off-season, roughly July through October, the 5'8″, 145-pound Jones maintains his fitness by "playing in the mountains," which includes hiking, climbing, biking, yoga and Pilates.
Once at a location, he photographs his runs with a digital camera and studies the images, like a mathematician solving an equation. He also sits, quietly, and stares at the contours of the mountain until he has plotted the safest route to the top of the run and back down again. Only then, after days and weeks of quiet obsession, does Jones begin his climb. "I go into the mountains with the mind-set that they are guilty until proven innocent," he says. "A complex line needs 20 things to go right. If 19 go right, but the 20th doesn't, I'm turning around."
What can go wrong? A temperature shift, for one thing, which changes the composition of the snow and increases the threat of an avalanche. Or hitting a patch of hard, slippery snow. Each morning, when Jones greets himself in the mirror, a five-year-old scar — earned after he wiped out in the Canadian backcountry and landed face-first on a chunk of ice — greets him back. It is a deep channel carved into his right cheek and a daily reminder that the mountains hide dangers even he can't prepare for entirely.
Jones embarked on this latest trek to film parts for his most recent snowboard movie, Deeper, which premiered in his hometown of Lake Tahoe on Sept. 10. Over the past 14 years, he has appeared in close to 50 movies. His most memorable descents are among the most jaw-dropping seen on film, each featuring a seemingly impossible moment — over a cliff, through fast-moving slough, across a needle-sharp spine — that Jones navigates as calmly and deftly as a video game character. With Deeper, a 76-minute masterpiece that captures the ascent as well as the descent, Jones wanted to be more than just a name on the marquee. He is the film's impetus, producer and star. Two years ago, just before he started shooting it, he was ready to walk away from his sport. He was bored and needed a change. But by the time he arrived in the Sierra for this final trip, he had more than rediscovered his passion for snowboarding. "It's no longer just about getting the shot," says Jones, who built his iconic reputation doing exactly that. These days, the goal is much simpler: have fun, keep learning and live to ride another day.
Hidden Dangers
Backcountry hazards threaten even the best-prepared pros.
AVALANCHES
In the two years Jeremy Jones spent filming Deeper, snowslides claimed the lives of 63 people in the U.S. alone. Avalanches are caused by unstable snowpack, drastic temperature changes, heavy snowfall and wind. And they travel quickly, moving at speeds of up to 200 mph. In January 2003, snowboarder Craig Kelly, a four-time world champ, was killed in a slide near Revelstoke in the Canadian Rockies.
WHITE ICE
A patch of hard, slippery snow is especially dangerous when it precedes a cliff or steep face. In June of this year, big-mountain skier Arne Backstrom died after losing control on a strip of white ice and plunging 1,300 feet on Pisco Mountain in the Cordillera Blanca, Peru.
CREVASSES
These are giant gaps in the terrain caused by cracks in an ice sheet or glacier. Riders risk falling into a crevasse that has been concealed by new snowfall, or being swept into one by an avalanche. In May 2009, French snowboarder and 1998 Olympic gold medalist Karine Ruby died, along with a companion, when they fell into a crack on a glacier while climbing at Mont Blanc in France. A third member of their group was airlifted to a hospital in critical condition.
CORNICES
Formed by the wind, a cornice is an overhanging mass of hardened snow at the edge of a ridge. It's treacherous for two reasons: A rider can step onto one that collapses or ride underneath one as it breaks. While snowboarding in New Zealand in 1997, Jones rode onto a ledge that broke off and caused an avalanche. He now inspects terrain for cornices every time he hits the mountains. "That mistake has probably saved my life many times since," he says.
Today begins with two hours and about 1,200 vertical feet of climbing, first using a splitboard — a snowboard that splits down the center and separates into two touring skis — and ski poles to navigate terrain that becomes increasingly steep and, at times, icy and slick. Despite burning quads, strained hamstrings and a searing in his chest, Jones moves at a pace that would exhaust a mountain goat. Two hours in, he stops to refuel and unstrap from his bindings. The remaining stretch is too steep to climb with skis, so he attaches crampons — sharp, metal, clawlike attachments — to his boots and trades his poles for an ice ax. After three arduous hours of climbing, one careful step at a time, he'll be at the top of his line. And this is his easiest day in the mountains in two years.
Back in 2008, Jones' life was set on cruise control, but too much of it was being dictated by the people who pay his bills: sponsors and film companies. In snowboarding, as with all action sports, movies reign supreme. Aside from a few exceptions, like halfpipe snowboarding and skateboarding, the best riding doesn't take place at a contest or at a predetermined time and location; it happens in the films, which typically feature a collection of parts by athletes in a particular sport. When someone in a movie with large distribution stands out with a notable part, his worth increases along with his Q rating, because he helps his sponsors sell products. More than 100 action-sports films premiere each year, but high-end ski and snowboard videos cost nearly $1 million to produce, which makes them easily the most expensive in the industry.
Jones' most prolific year of filming was 2007. Over one stretch, he shot five movie parts in three weeks. For most riders, it takes an entire winter to film one. "It got to the point where I could get a lot of work done in a day," he says. "It was a pretty brainless deal." When his parts in films such as Draw the Line (2006) and That's It, That's All (2008) debuted, no one could have guessed that the mind-bending riding they were watching was becoming unsatisfying for the guy the rest of the big-mountain world was trying to keep up with. "The incredible high you feel the first day you link turns — I've tried to keep that feeling," Jones says. "That's what led me around the world, the search for constant evolution." Each season, he set out in search of the perfect line. But each year, it was harder to rise to the standard he had set for himself the previous season. In order to feel the same buzz he once experienced on every descent, he needed to try riskier lines, take chances he knew were getting closer to the edge.
So he took a step back. He thought about what made him fall in love with snowboarding as a kid growing up in Cape Cod, hiking in the woods after school and riding with his family in Vermont on the weekends. It was the exploration, the process, the discovery. His high came from finding places others hadn't thought to look for, from seeing possibilities where others saw obstacles. What he loved most about snowboarding was no longer what he was most famous for: the descent. Now the buzz came from flying over vast mountain valleys in a helicopter and looking for the next great line, from being dropped off on a 12,000-foot peak and hiking to the top of a run. "As I got better and better at navigating the steep stuff," he says, "I realized I'm a cheap drunk when it comes to hiking."
He also realized that hiking was a means to align his professional life with his philanthropic passion. In 2007, Jones started the environmental nonprofit Protect Our Winters. Like his peers, he saw resorts closing and terrain disappearing for lack of snow, and he wanted to do his part to stop climate change. But at work he was guzzling gas. What if he could do his job without using helicopters, snowmobiles or lifts? Jones estimates that helicopters can access only 2% of most mountain ranges, leaving 98% unexplored. So he wanted to prove he could ride the same caliber of lines he had built his reputation on — maybe even better — after accessing them on a splitboard and his own two feet. He wanted to rediscover the mountains he considered his backyard ranges: the Sierra; the Tetons; Chamonix, France. And he wanted to conquer Alaska, a central character in all the films he has starred in since first traveling to Valdez with his two older brothers in 1994. "In order for this experiment to be a success, Alaska needed to work," Jones says. "Alaska was the key to my new world."
Another key was to master mountaineering, a sport that, like backcountry snowboarding, is all about reaching untouched summits. But few snowboarders have the time or desire to learn the skills — hiking, climbing, ice climbing, cross-country skiing — to access world-class terrain on foot. "I've always been sad to see the gap between the snowboard and mountaineering communities," says Xavier De Le Rue, a French big-mountain rider and X Games champ from a family of climbers and skiers. During the filming of Deeper, De Le Rue accompanied Jones on a trip to Chamonix, where Jones honed his snow- and ice-climbing skills during all-night climbs and 15-hour days, and to Antarctica, which was accessible only by ice climbing directly from the boat. "Young snowboarders don't know what is possible in the mountains, and mountaineers are stuck in their ways," says De Le Rue. "Jeremy is showing that if you merge techniques and experiences, you get further because of it."
Greg Von Doersten for ESPN The MagazineThis is an example of a typical descent for Jones.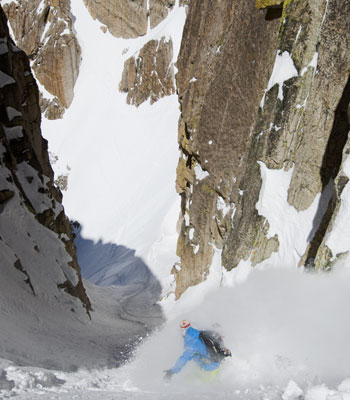 Jones was willing to admit he had a lot to learn about the mountains. Still does. And he's inspiring others to come along for the ride. Travis Rice, one of the best all-around snowboarders in the world, joined the first Deeper expedition to Alaska, in March 2009. He planned to stay a week, but remained the entire 27 days. "Jeremy is breaking down the boundaries of 'I can't,'" Rice says. "The effort is greater, but hiking your lines is a much more profound experience."
Jones' brothers, Todd and Steve, founders of the respected ski and snowboard film company Teton Gravity Research, immediately signed on to produce the project. But with Deeper, gone were the days of shooting five movie parts in three weeks. Jones' new approach to snowboarding meant spending days, weeks, sometimes months in pursuit of one shot. "While I was planning the first few trips, I'd think, If I were using a heli, I'd have a ton of shots already," he says. "I'd have so much anxiety out of the mountains, and then I'd come into the mountains and it would all go away." In the mountains, Jones is at peace. It is where, stripped of material possessions and unnecessary desires, he feels most himself, most connected to the universe, most alive. "On our first official Deeper trip into the Sierra, Jeremy rode this chute he'd climbed and came out at the bottom yelling like a little kid," says Chris Edmands, the main filmer on the project. "When he got home, Tiffany said he had a glow about him." And that glow has remained, despite constant struggles and setbacks.
When Jones arrived in Alaska, he was anxious but prepared. Then, a few days before his team was scheduled to depart for base camp, Tiffany called. Jeremy's best friend and neighbor, pro skier Shane McConkey, had died while ski-BASE jumping in the Italian Dolomites. Jeremy was godfather to Shane's children. Tiffany and Shane's wife, Sherry, are best friends. Their kids attend each other's birthday parties. Jeremy had lost a lot of friends to the mountains, but life without Shane seemed impossible to imagine. Looking back, Jones calls that day the lowest moment of his life. He postponed the trip and flew home for the funeral. When it came time for him to leave Tiffany, Mia and Cass and return to Alaska, he didn't think he'd be able to find the strength to walk out the door. But eight guys were waiting for him in Haines. A few days after he rejoined them, he wrote in his journal, something he does often:
The day Shane died was the day my life changed forever. Kids need a father. On the evening or morning of a serious line, half of me hopes the 20th thing goes wrong. Why can't I be content on the sidelines?
Over the next two years, Jones lost two more friends. This past February, freestyle skier C.R. Johnson died after crashing and hitting his head on a rock at his home mountain of Squaw Valley, in Lake Tahoe. In June, Backstrom's older brother, Arne, died while skiing on a film trip in Peru. "At Arne's funeral, C.R.'s parents were sitting on one side of my family and Sherry was sitting on the other," Jones says. "It was our third funeral in a year. I could use a lot less reality."
It is a struggle Jones deals with each time he leaves home. He looks at his kids and knows that not coming home isn't an option. But not returning to the mountains is less of one. He has no interest in dying. He isn't fearless or impulsive. He doesn't climb mountains while texting or talking on the phone or after drinking a few beers. He is calculated, precise and methodical. He doesn't take a step without first taking that step over and over in his mind. And then he takes that step saddled with the memories of what can happen with one misstep.
His family likes to tell this story to illustrate the point: When Jones was a baby, his mom, Linda, thought something was wrong with him. Around age 2, he still didn't speak. His brothers were loud, rambunctious terrors, but Jeremy was quiet and calm. Linda thought he was deaf, or slow, and she took him to see several doctors, none of whom found anything wrong. Then … "The first time he uttered a word, it was a complete sentence," says his brother Steve. "He just started talking. Mom fell down crying."
The boy had simply been listening, waiting, until he figured out the language. Then he spoke. That's how Jones approaches everything. And it is why, when he is away from his family and out of cell service, Linda and Tiffany are able to sleep at night.
On his second trip to Alaska, Jones finally found his trophy line, igniting an even greater fire within himself. Over the next few years, he plans to build on his mountaineering skills and make two more films, Further and Higher, which will take him deeper into the mountains he has already explored, as well as to new ranges and higher elevations. He believes the most intense riding of his life is yet to come. But he now heads into the mountains knowing that what fulfills him is not taking the perfect line. It's the climb.
This story appeared in the "Movie Spectacular" issue of ESPN The Magazine, available on newsstands Nov. 29, 2010.